Before we can continue with the outer wheelhouse replacement, we have more rust to deal with.  The rear lower filler panel is rusted and will need to be cut out.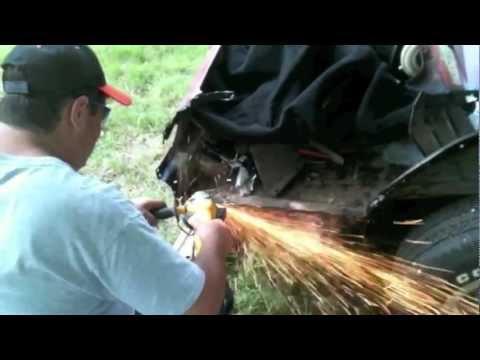 Once the rusted panel was cut off, we used the old part to fabricate a new one.  We laid the part on a flat sheet of metal and outlined the metal using a marker.  Then we cut along the mark to  make the new piece.
Now we have the old part cut off and the new part ready to install.
1. Determine where rusted part needs to be cut and mark.  Masking tape can also be used as your cut line.
2. Use a tool to cut the part.  I used a grinder, but a cut-off saw or reciprocating can also be used.
3. Use the old part as a template.  Lay the part on a flat sheet of metal and mark cut lines.
4. Cut the cut lines using a cut-off saw, reciprocating saw, or metal snips.  (Note: a grinder may not make precise enough cuts for this step.)
Pics